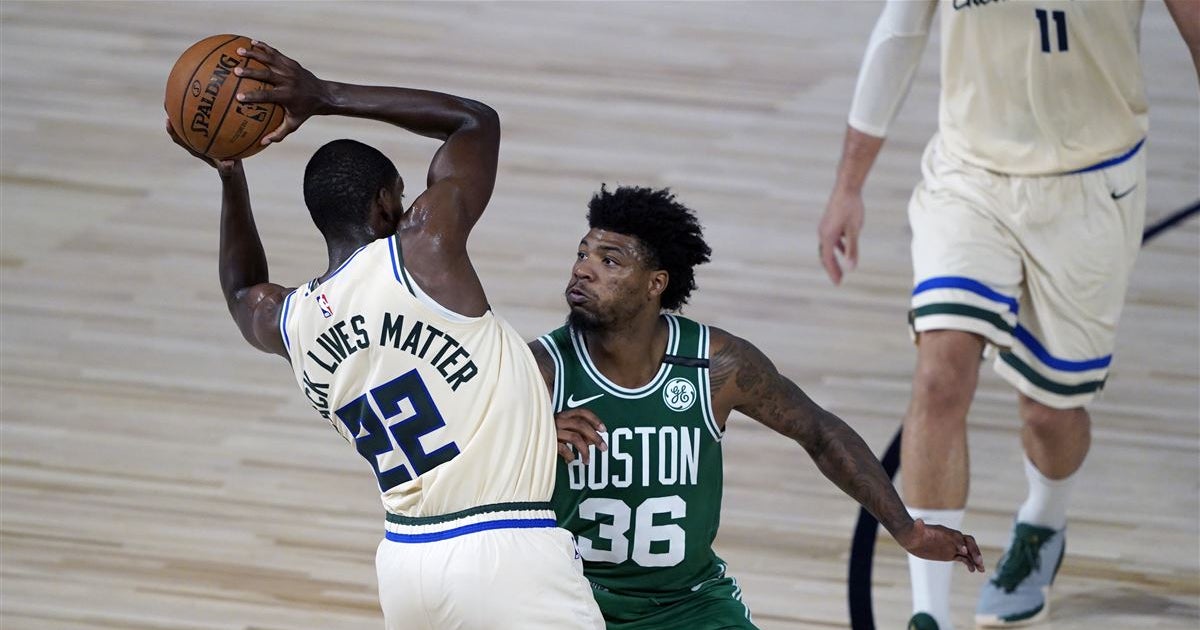 Boston Celtics guard Marcus Smart became the NBA restart's first player to draw a fine, Stadium's Shams Charania reported Saturday evening. According to Charania, Smart's fine is for $15,000.
The league reportedly disciplines Smart after his comments on officiating in Friday's 119-112 loss to the Milwaukee Bucks. He appeared to be upset with a series of calls throughout the game favoring Bucks forward Giannis Antetokounmpo.
"The excuse was I was late on the charge," Smart said of a late-game call where he received a blocking foul for his defense on Antetokounmpo, overturned from a charge. "The replay center said I was late and it was a block. Quite frankly, I think we all know what that was about. Giannis has six fouls. They didn't want to get him out. Let's just call a spade a spade. That's just what it is."
Antetokounmpo would have been assessed his sixth foul, taking him out of the game. Instead, he remained in and helped the Bucks pull away from the Celtics down the stretch.
Antetokounmpo dropped a game-high 36 points on 14-of-20 shooting, adding 15 rebounds and seven assists in 32 minutes. In 32 minutes off the bench, Smart scored a team-high 23 points on 7-of-11 shooting, going 3 for 6 on three-pointers and grabbing four rebounds.
The Celtics (43-22) were outscored by a 32-25 margin in the fourth quarter against the Bucks (54-12), their first opponent for the 2019-20 NBA season's resumption of play. They return to action Sunday with their 3:30 p.m. ET game against the Portland Trail Blazers (30-37).
"I thought we had multiple possessions where we had four guys really guarding, and we just made one mistake and they exposed it," said Brad Stevens, Celtics head coach, after the game, via NESN.com. "And then on the offensive end, I just thought we were a little passive early. We got to moving it with some better second attacks than we did in the first couple of minutes. You know, I think that was probably not a huge surprise in some of these games, and maybe we're an example of that, where you'll start slow."
All games have been and will be played at the Walt Disney World Resort in the Orlando, Florida, area.
The NBA returned 22 teams with eight remaining games to play before the playoffs. The top seven from each conference clinch playoff spots while the eighth seed could potentially come down to a play-in tournament.
A play-in tournament for the eighth seed would come if the team were to be four games or fewer ahead of the ninth-best record in the conference. A best-of-two series would take place with the ninth-best team needing to win two games over the eighth seed for the conference's final playoff spot.
The playoffs are then set to be the same as the traditional picture, a 16-team field. The 2020-21 season could then begin Dec. 1.